Shade Gardening Tips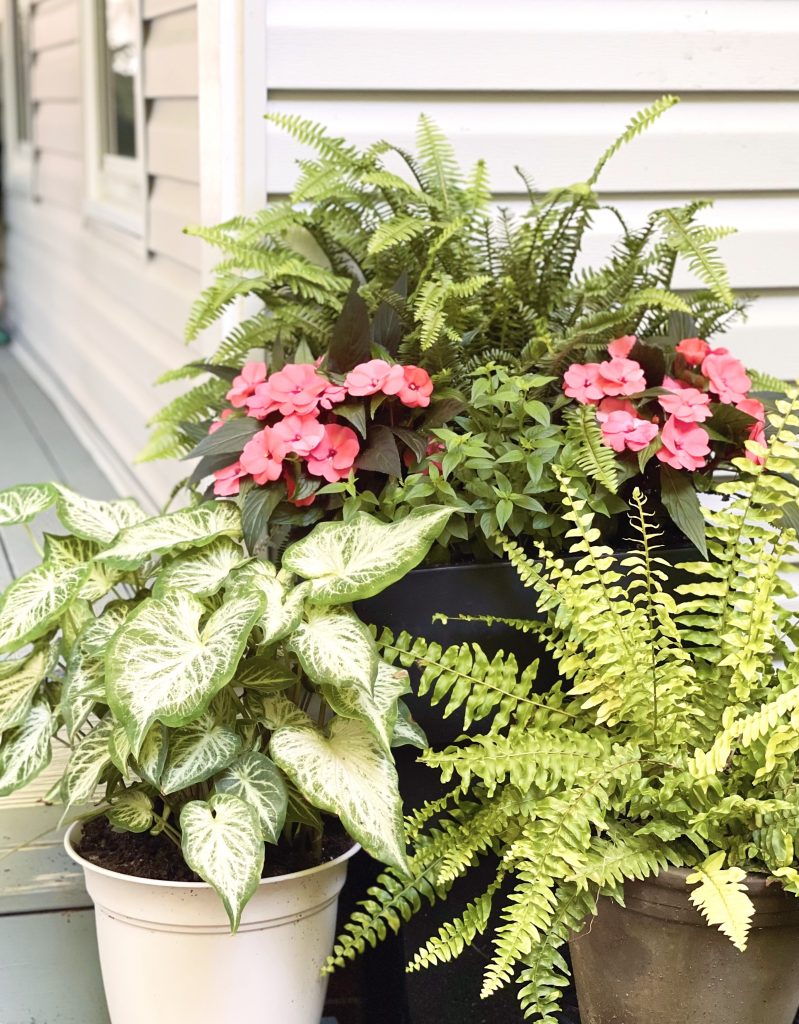 What better way to escape those blistering summer temps than in the tranquility of a shade garden. Whether under the canopy of mature trees or alongside a north-facing deck, there are many plant options for vibrant shade gardens. 
Below are just a few options to help shade gardens become a tranquil escape that I've been successful with.
HOSTAS
Hostas are a staple among the shade garden and come in many color variations and sizes. If you're looking for a statement hosta, try one like 'Empress Wu' that gets up to a mature height of 4-5 feet tall. I enjoy hostas that have unique color variations like 'Guacamole', 'Blue Mouse Ears', or 'Blue Angel'. My hostas do best in the morning sun and afternoon shade although there are some varieties that will do just fine with more sunshine. Keep a lookout for hosta scorch (browning, paper-thin leaves due to too much sun). 
Just a heads up, slugs and deer love to snack on the hosta plant's lush foliage. Hosta varieties that are considered more "slug-resistant" have thicker leaves and are more textured.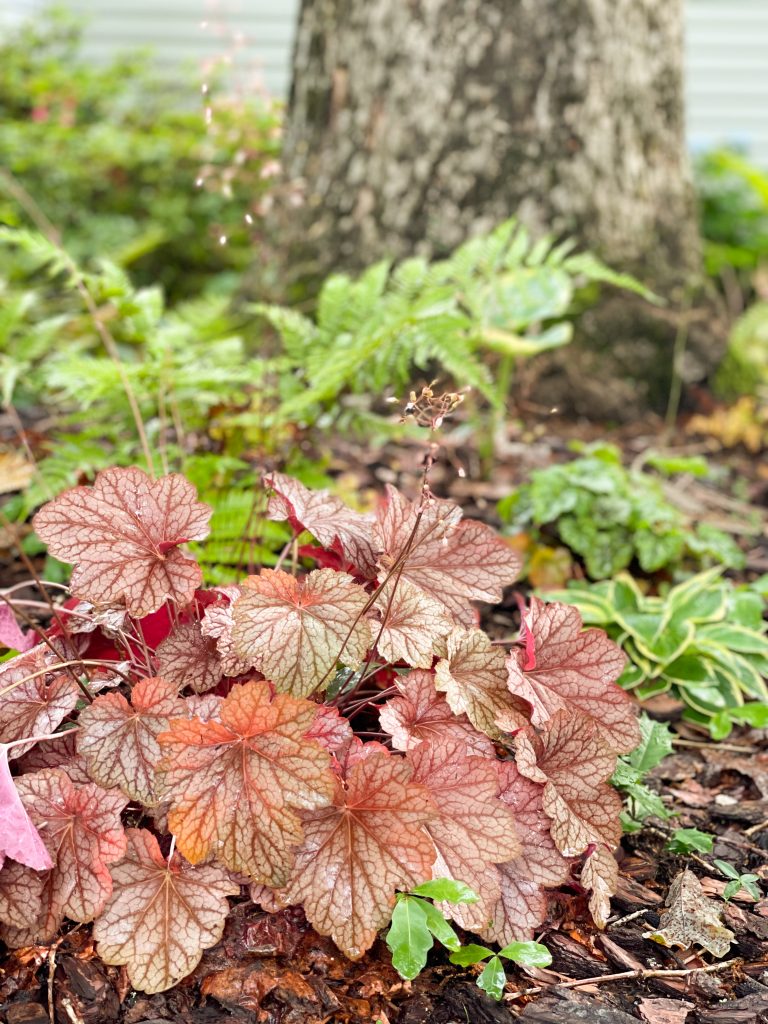 HEUCHERA
Also known as 'Coral Bells' are my go-to plant for anyone that says shade gardens can't have bright colors – queue Heuchera 'fire alarm' or 'carnival watermelon'. From bright reds to deep purples, coral bells are a beautiful low-maintenance shade plant that not only has unique foliage but also provides dainty bell-shaped flowers. Partner these shade-loving plants with hostas for contrast and texture in the woodland garden.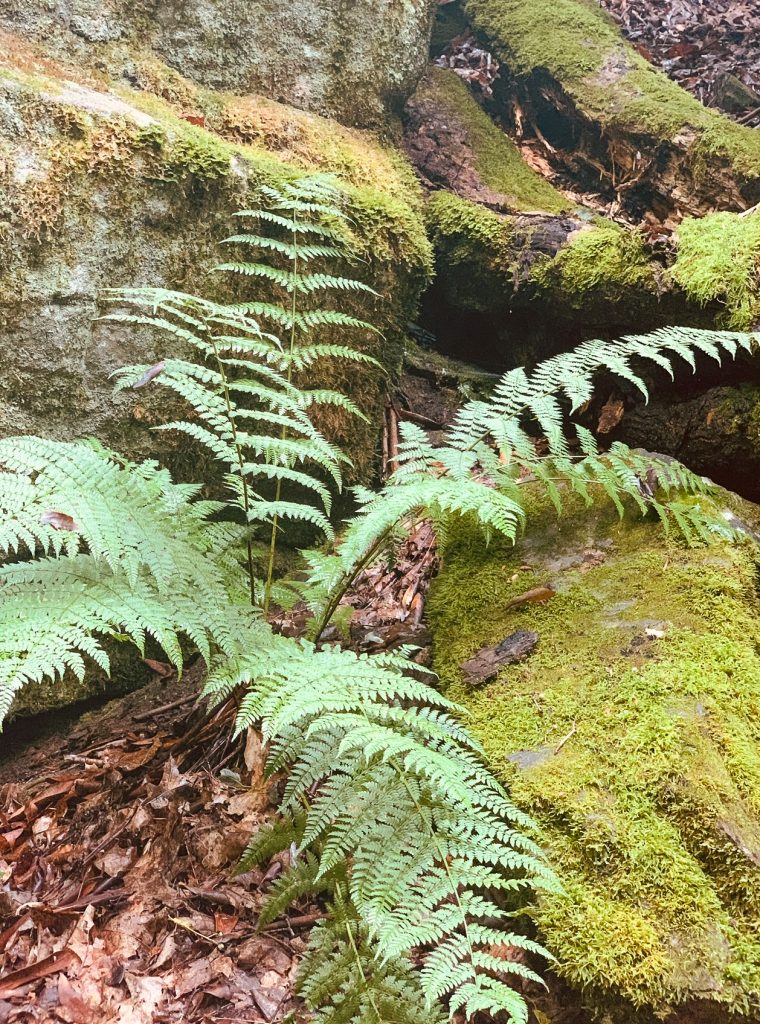 FERNS
No shade garden is complete without them. I really enjoy my evergreen ferns and my all-time favorite perennial fern for our area is the 'Autumn' Fern. This evergreen fern variety provides new fronds auburn in a color that turns a bright traditional fern green. Other evergreen varieties include Japanese holly ferns and soft shield ferns. If you have an area of the garden that stays soggy after a hard rain, plant ferns and enjoy moist soil. My assortment of evergreen ferns has also done well in container gardens tactfully placed throughout the shade garden.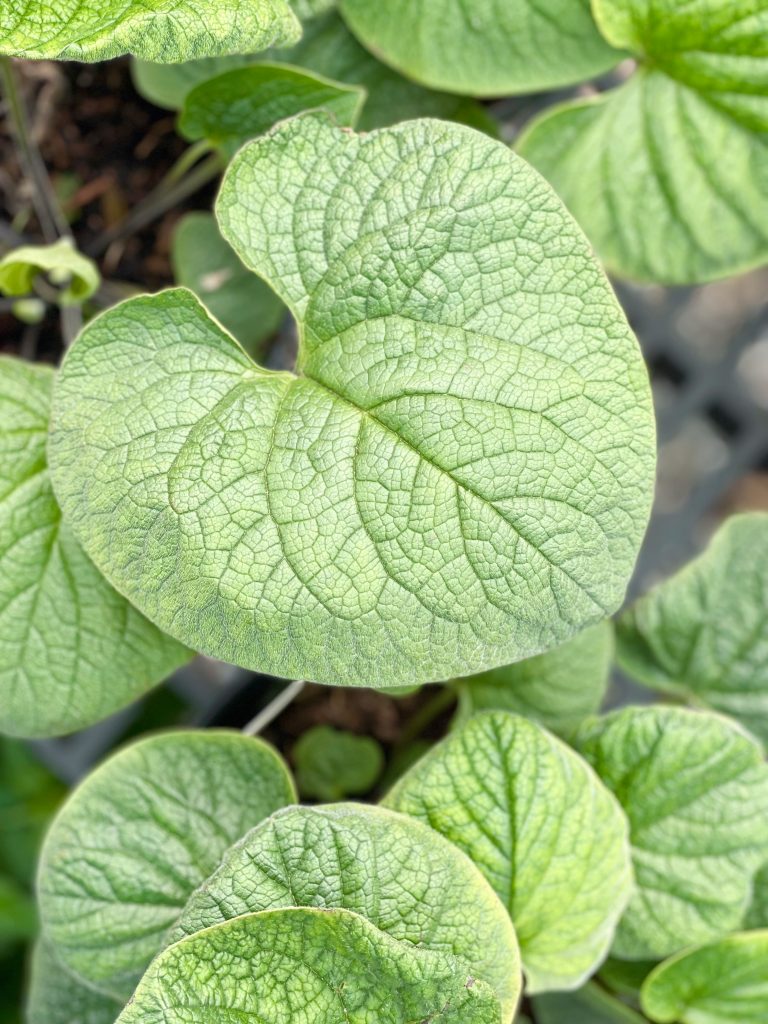 BRUNNERA
The shade of blue can be hard to come by in the garden however this shade-loving perennial provides beautiful light blue blooms among gray/silver heart-shaped foliage. Brunnera stays compact in a mounding habit and is somewhat drought tolerant. The best news is that Brunnera is deer resistant. I suggest planting Brunnera along the edge of a shade garden, so it doesn't get lost among other shade plants.
NEW GUINEA IMPATIENS
If you're looking for instant color in the shade garden, New Guinea Impatiens are an excellent choice. Although these annuals can tolerate a moderate amount of sun, they prefer shade in the afternoon, especially in the warmer summer months. New Guinea Impatiens come in several different shades of lilac, pink, white, red, and coral. To be successful with New Guinea Impatiens, plant in an area that receives morning sun and afternoon shade and provide them with consistent watering at the base of the plant rather than the crown. Feed with a low-nitrogen fertilizer like Fertilome's Blooming and Rooting plant food to ensure all-season blooms.
CALADIUMS
Sibling to the Alocasia, Caladiums are a versatile shade annual. Caladiums can be used as the centerpiece of a container garden, providing a backdrop to other blooming annuals. For example, plant a caladium with red veins or spots like 'Carousel' or 'Candyland' with ferns and red New Guinea Impatiens for a soft contrast. Be sure to mix in some compost when potting up your caladiums and they will be happy all season.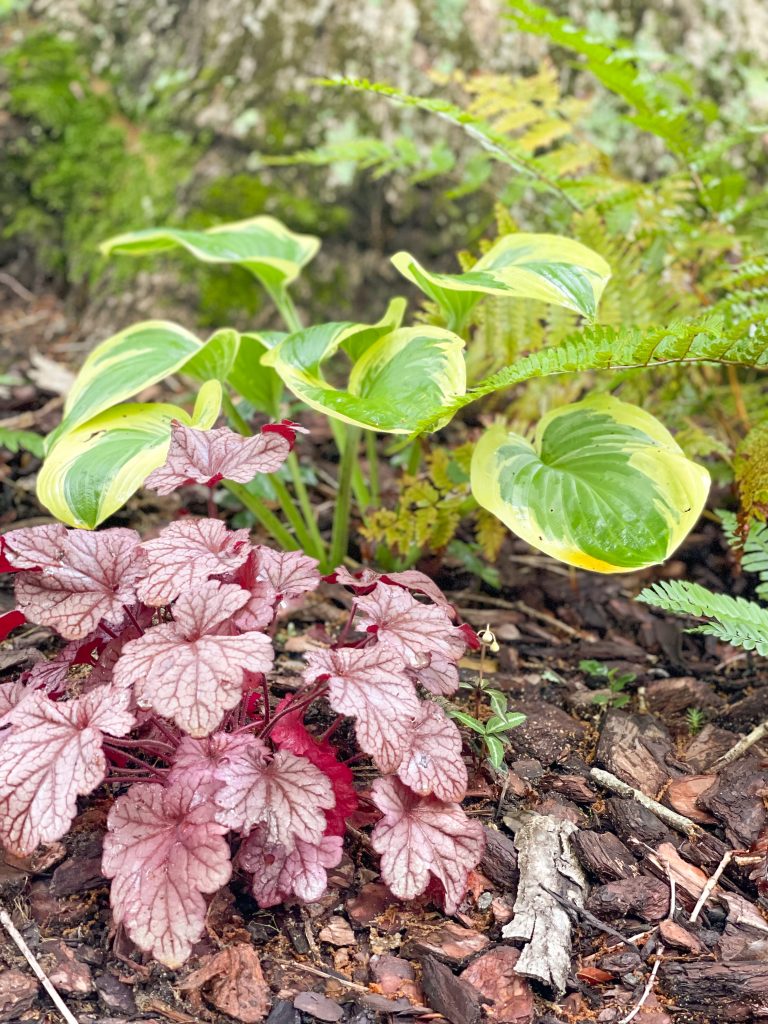 The key to any successful shade garden is to pay close attention to watering needs. There are shade plants that prefer more dry soil conditions and others that really need the extra moisture (I.e., ferns). Be sure to observe how your yard recovers after rainy days. If you have any questions about shade gardens or just want to share your garden successes, come visit us, we're here to help!
If you have questions that weren't answered here, or if you need more information, feel free to stop by and see us at either the Broad St or Mechanicsville location, or give us a call, or drop us an email at info@stranges.com. We're here to help you grow better!
Connect With Us On Social Media!