How to Create a Rain Garden

Introduction
If you're concerned about runoff water in your yard, whether due to a damp basement or environmental interests, then a rain garden might be the perfect addition. Adding a rain garden is not only a functional way to protect the environment but also adds beauty and diversity to your landscape. In this article, we will explore the benefits of rain gardens and provide you with essential tips to create your very own rain garden oasis.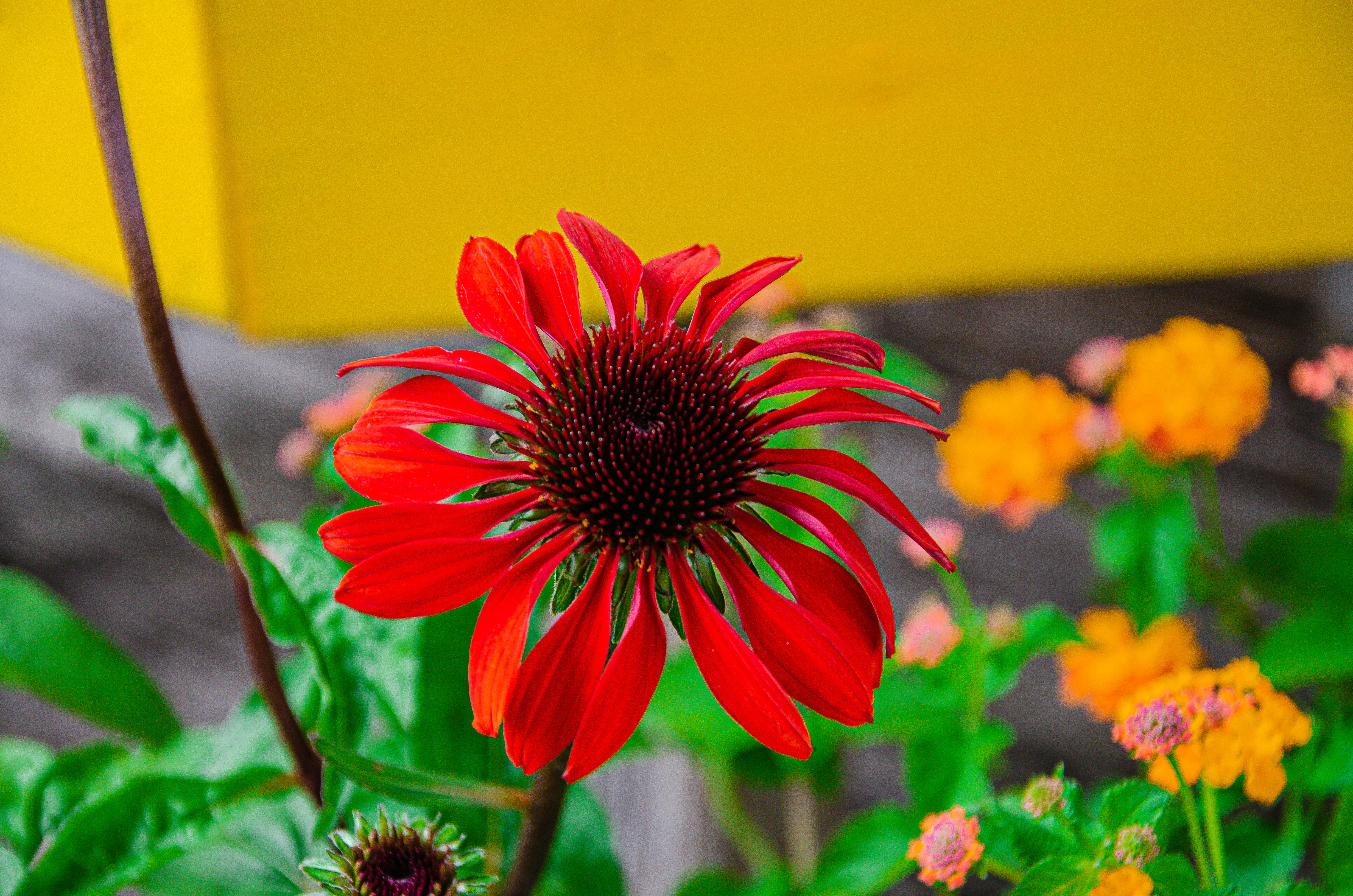 What is a Rain Garden?
A rain garden is a perennial garden that collects runoff rainwater from non-permeable surfaces such as roofs, driveways, and sidewalks. Rain gardens allow stormwater to return to the ground, reducing runoff and erosion while keeping pollutants from entering our waterways. Rain gardens are designed to absorb and process more water than traditional turf lawns, making them an effective solution for managing excess water. By planting deep-rooted plants in the garden, water can seep into the soil rapidly so that water is only for a day or two at most.
Choosing the Right Location
To begin creating your rain garden, identify a naturally low area in your yard where water naturally flows. It is important that the area will also be in full sun to part shade. Looking downhill from paved surfaces or where roof downspouts pour out are excellent starting points. Avoid areas where standing water collects as this indicates slow-draining soil. Be sure to place the rain garden away from buildings and structures to prevent water seepage into foundations. Also, consider where septic tanks and utility lines are located and place your garden at least 50 ft away.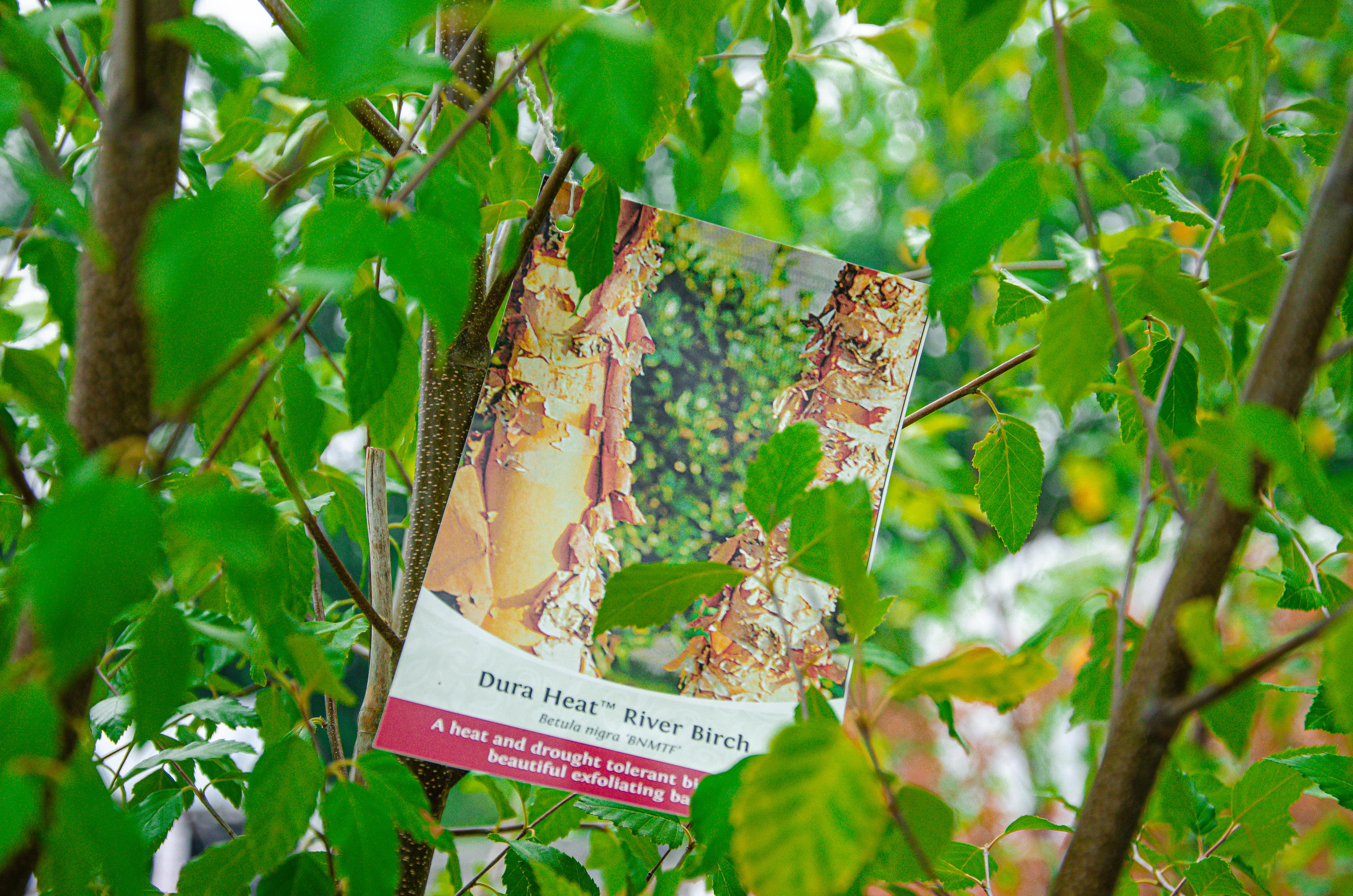 Selecting the Plants
When it comes to plant selection, opt for native plants whenever possible. Native plants can tolerate both short periods of drought and standing water, making them perfect for rain gardens. They also have deep root systems that guide water down into the soil. Native plants also benefit pollinators, which adds another environmentally-friendly function to your rain garden. Here are some of our recommendations for your rain garden: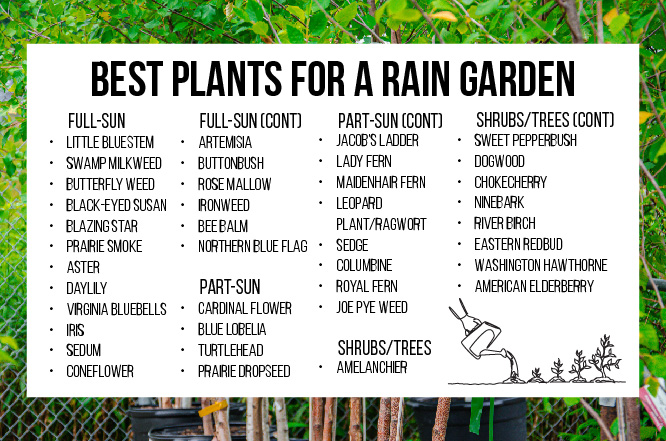 Consider the conditions your plants will be living in as well. Plant varieties with "average to moist" water requirements should be placed in the deepest part of the garden. These should be plants that like standing water, such as ferns. As you move out from the center's standing water, you can begin to plant varieties that will tolerate occasional standing water on the slopes. Finally, on the higher edges of the bed, plant varieties with "average to dry" water requirements. This includes most native perennials and species that prefer a drier climate. For more information, check out this handy guide by Plant Virginia Natives.
Creating and Caring for Your Garden
To create your rain garden, you'll need some essential tools like a level, spade, and wheelbarrow. You can also utilize materials such as river rock, decorative rocks and boulders, mulch, landscape fabric, and PVC pipe as necessary. Determining the size and depth of your rain garden depends on how quickly the soil absorbs water. You want the garden to fill during a rainfall, but drain within 24 hours. Dig a small test hole in the garden area, fill it with water, and observe how fast it drains. Use this information to calculate the ideal depth and size of your rain garden based on the volume of water runoff from your roof and how much space permits. You can also use this handy calculator to estimate how big your gardens should be.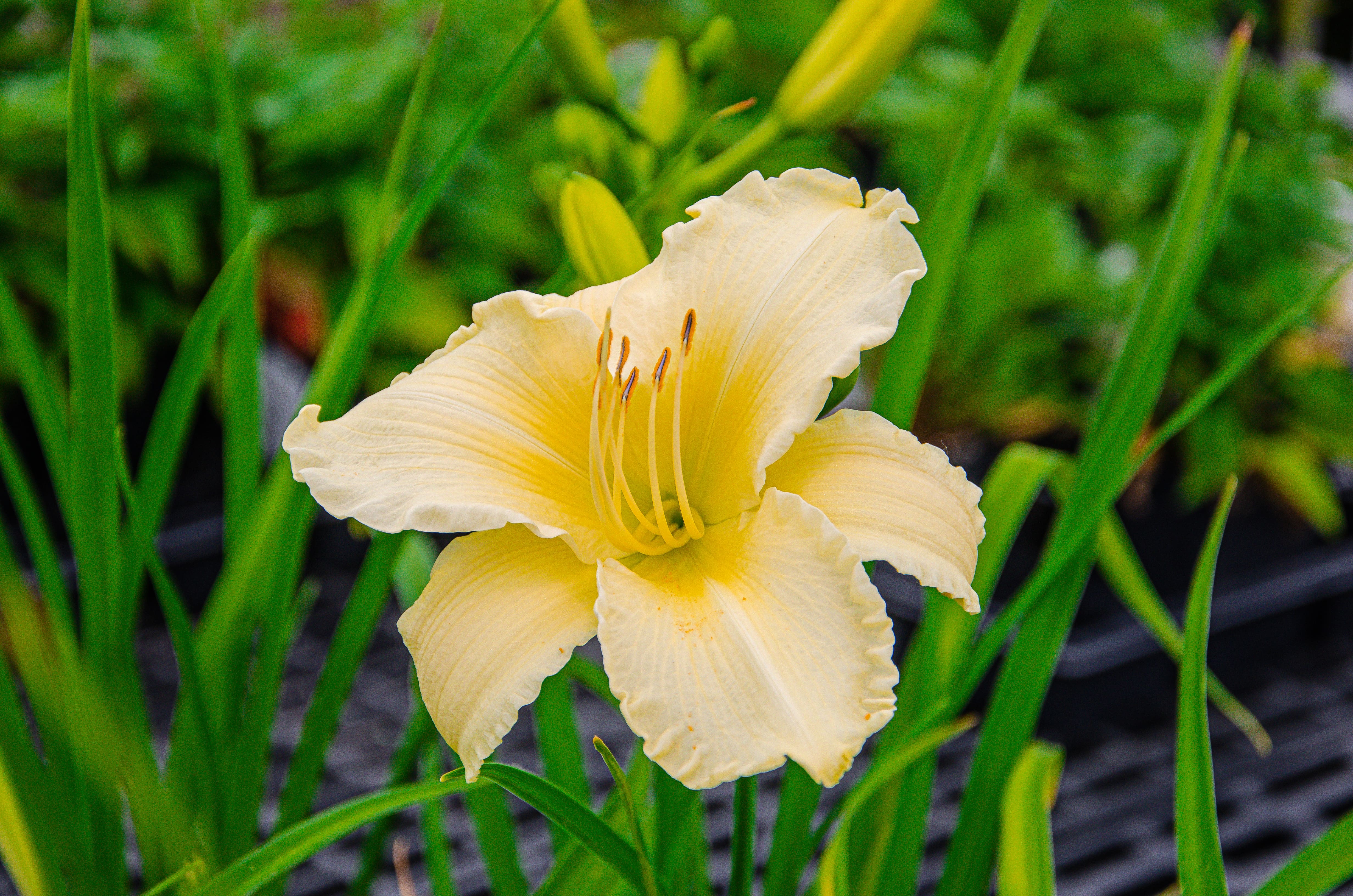 To create the garden, first, make a berm in a low spot and create swales to channel runoff from gutters and other higher areas of your yard. Use river rock or PVC piping to direct water to the rain garden, ensuring it is at least 10 feet away from your home to prevent water damage. Be sure to include an overfill area as well so that flooding will cause minimal damage. More detailed instructions and plans can be found here.
During the first year, water your rain garden regularly to help establish the plants. Mulch with shredded hardwood mulch to retain moisture and control weeds. Baby your garden and provide regular maintenance, such as weeding and checking the plants' health. For general care, water regularly, especially during dry spells. Native plants are generally low-maintenance once established and can withstand dry conditions.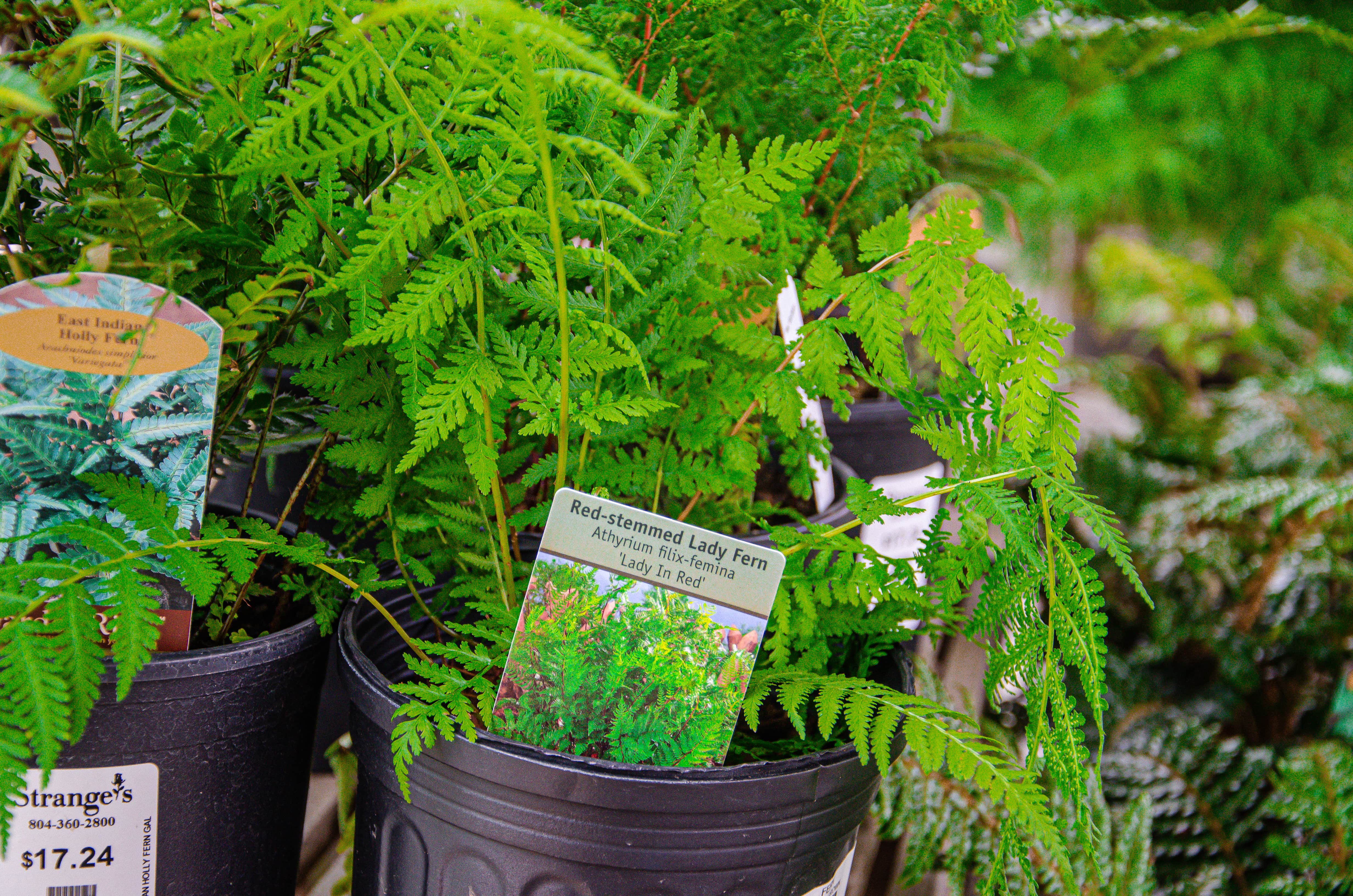 Conclusion
By incorporating a rain garden into your landscape, you will be able to manage stormwater runoff while creating a beautiful and environmentally-friendly space. The combination of native plants and proper design allows rain gardens to play a vital role in reducing erosion, protecting waterways, and supporting pollinators. Take the initiative to nurture your land and protect the environment by implementing a rain garden in your yard today.
If you have any questions that weren't answered or need more information, feel free to stop by and see us at either the Broad St. or Mechanicsville location. You can also call or drop us an email at info@stranges.com. We're here to help you grow better! 
Connect with Strange's: 
Instagram: @StrangesRVA             Facebook: @Strange's Florist 
Mechanicsville: 804-321-2200      West Broad: 804-360-2800