4 Common Problems Affecting Your Tomatoes

Written by Ann Meisoll
Tomatoes are the mainstay of many Richmond gardens. They should be producing well this time of year, but sometimes issues do pop up. Some of the more common ones, along with solutions, are listed below.

Hornworms
Do your plants look fine one day, but leaves and stems are totally gone the next day? If so, you probably have hornworms on the plant. Hornworms are lime green, sort of ridged, and they're LARGE. Unfortunately, they blend in really well on a tomato plant, so you have to really hunt for them. They can eat a large tomato plant down to nothing in just a few days.
Solution: Search and destroy—hand pick and kill them. You can also spray or dust them with Bt (Bacillius thurgiensis). This is an extremely effective organic control product, available as a dust (Dipel), or as a liquid (labeled as Bt or Thuricide).
Blight
Blight occurs when a lot of different things collide. Fungal spores, combined with warm days, wet weather and sometimes improper watering all combine to form spots on tomato leaves. Left unchecked, blight can destroy a crop.
Solution: Remove the infected leaves, water early in the morning and water at the bottom of the plant. Spray with Daconil or sodium bicarbonate, according to directions. **Be sure to throw away infected leaves and plants—don't compost them!

Splitting
Fruit splitting usually happens after a dry/wet cycle. This is where the plants have been too dry and then have gotten an excessive amount of water. The fruit is still edible—just be sure to pick it quickly!
Solution: Mulch your tomato plants. This will help conserve moisture and also help prevent the spread of fungal diseases. Water deeply and regularly. Make sure the water gets to the base of the plant, not all over the plant.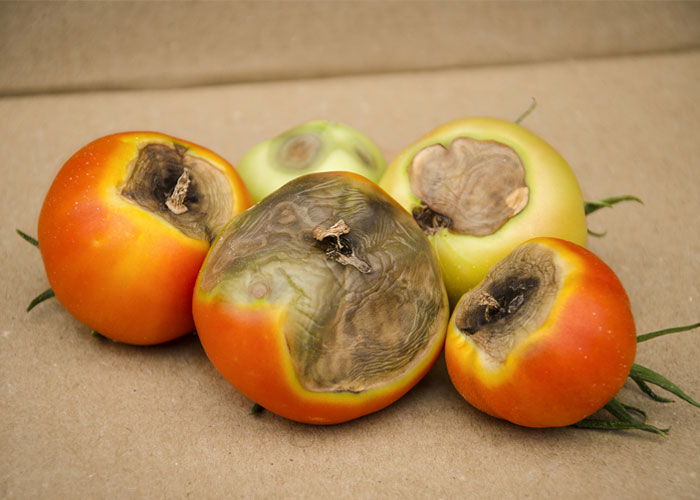 Blossom End Rot
Want to know more about blossom end rot? Check out our blog post on Understanding Blossom End Rot: It's Not What You Think.
BER appears as a sunken, wet black patch on the bottom of tomatoes, peppers, squash, cucumbers, and melons. This patch will turn hard and leathery if the fruit is left on the plant. BER is due to a lack of calcium in the soil. This condition can be easily prevented/fixed.
Solution: Don't overfertilize with a high nitrogen fertilizer. Use a balanced organic fertilizer like Espoma Tomato-tone. Water regularly and deeply. Apply calcium nitrate according to directions. Liquid calcium needs to be applied more often than the granular form. Also, make sure to rotate where you plant tomatoes (and any plants related to tomatoes) each year. Blight spores stay in the soil for at least a year, so moving them around is essential unless you want to keep fighting the problem.
If you have a plant problem and can't figure it out, bring us a piece of the plant and/or photos, and we'll do our best to help you!