Strange's Spring Preview
Date: March 16, 2019 Time: 9:00 AM - 5:00 PM Location: 12111 West Broad Street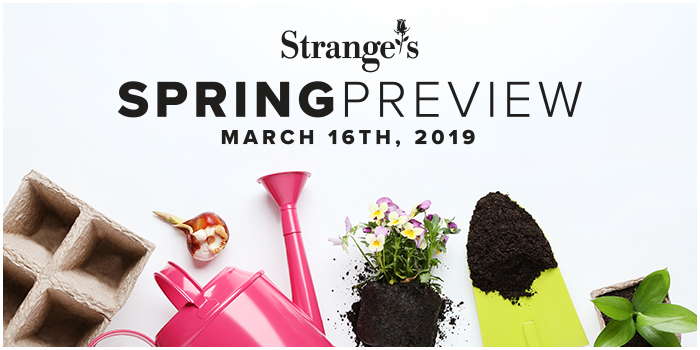 Pull on your gloves, sharpen your pruners, and ready your shovel because spring is right around the corner! Join us March 16th as we whip your spring gardening into shape with free classes, sales, and more.
Free pH Soil Testing
Bring us a bag of soil and we'll test your soil's pH for free all weekend long.
Kids' Strawberry Planting (10:00 AM – 2:00 PM)
We're not leaving the little ones out of the fun! Bring the kids and we'll help them plant their very own take-home strawberry plant for FREE!
SALES (SATURDAY + SUNDAY)
—–
🌱 20% OFF Fruit Trees
🌱 15% OFF Weeks Roses
🌱 15% OFF Citrus
🌱 15% OFF Creeping Phlox
🌱 15% OFF Hellebores
🌱 $19.95 Lynwood Gold Forsythia
Free Classes
9:00 AM – Early Spring Vegetables & Microgreens

Are you tired of growing lettuce and want to try something different? We'll share all the tricks of the trade for growing great early spring vegetables and microgreens this season. You'll also learn everything you need to know to feed and support your veggies through the spring and beyond!
10:00 AM – New Homeowners' Guide To Landscaping: Part 2
Part 2 in our New Homeowners' Guide to Landscaping! In this second sessions we will cover:
Time to Dig Some Holes
Now that you've gotten rid of the old, it's time to put in the new. Figure out your spacing. How much usable area along the front of your do you have? Put your "bones" in. What foundation plants will work for you? Decide what kind of "look" you want. Classic, fancy, color, conifer, broadleaf, deciduous?
Sick of Your Neighbors Yet?
Now that you're settled in it's time to block out your neighbor's kids swing set. Screening plants are a great way to add some solitude to your side of the fence while improving your landscaping.
11:00 AM – Early Spring Lawn Care
Veteran gardener Tom Rush will show you how easy it is to be a turf expert from weed control to fertilization. You'll be growing your own lush, green lawn in no time!
12:00 PM – Getting Started with Fruits & Berries
Who doesn't like fresh fruit? Learn what grows best in Richmond and how to take care of it. We'll also talk about growing fruits & berries in containers if you're short on garden space.
1:00 PM – Container Gardening 101
Strange's very own container guru Susan Frakes will show you her secrets to creating containers bursting with color! Using trees, shrubs, annuals and perennials she will teach you how to create containers for every space in your yard.
2:00 PM – Greenhouse 2019 Spring Preview
We'll talk about the myriad of new plant introductions for 2019 and show you some of our new favorite products and tools in the greenhouse.
3:00 PM – Make Better Neighbors with Screening Plants
Are you looking for a little more privacy in your yard? Screening plants are a great way to add some solitude to your side of the fence and to improve relationships with your neighbors. We'll show you what your screening options are based on sun, size, season, and more!
4:00 PM – How to Fill Your Garden with Early Spring Color
Join us for a comprehensive guide on how to jump start vibrance and color in your garden while it's still chilly outside! We'll share some of our favorite early spring plants and detail best care practices to make sure they stay happy and healthy.