Strange's Pollinator Extravaganza
Date: June 23, 2018 Time: All Day Location: 12111 West Broad Street, 3133 Mechanicsville Pike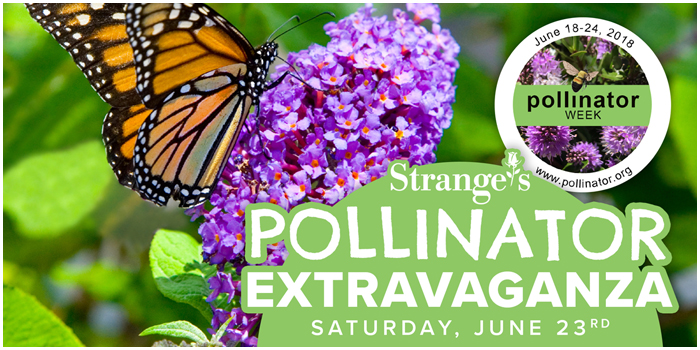 In honor of Pollinator Week swing by Strange's on Saturday, June 23rd for our pollinator extravaganza! Enjoy 25% off pollinator-friendly plants*, classes on beekeeping & pollinator gardens, and complimentary snow cones.**
*With presentation of coupon (detailed below).
**Mechanicsville will have no classes or snow cones, only the sale.
Classes
10:00 AM – Back Yard Beekeeping
Join Ed Mekalian of Hunny Bee Good and the Richmond Beekeepers Association as he shows you best practices for tending to the hive. Whether you are an experienced beekeeper, a new beekeeper, or thinking about starting your first back yard beehive, you're sure to pick up some tricks of the trade from this local bee expert! Come with your best questions!
11:00 AM – Pollinator Gardens
Resident plant expert Kevin Cutlip presents some of Strange's favorite pollinator-friendly plants so you can grow a pollinator haven for bees, butterflies, hummingbirds, and more!
Sale/Coupon
Pollinator-friendly plants will be 25% off with presentation of a special coupon at the registers. You can either print the coupon and bring it with you or grab one at our receptionist desk.