Strange's Bloomin' Days 2018
Date: March 18, 2018 Time: All Weekend Location: 12111 West Broad Street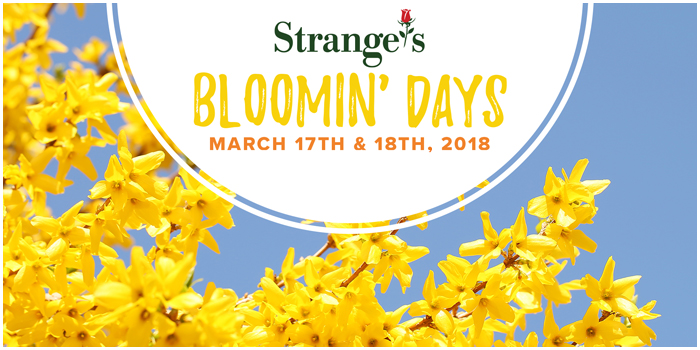 Join us at Strange's on West Broad as we celebrate the coming of spring! Enjoy a weekend of seminars, demonstrations, and early bird specials sure to kick your spring gardening off to a fantastic start.
Seminar Schedule
Saturday, March 17th
8:15 AM – Strange's Garden Forum (+ Refreshments!)
From annuals to vegetables and everything in between, our panel experts are ready to answer all of your gardening questions. Enjoy complimentary coffee and donuts while Strange's certified horticulture experts help resolve your gardening dilemmas.
9:00 AM – Backyard Fruits & Berries
Who doesn't like fresh fruit? Learn what grows best in Richmond and how to take care of it with expert advice from Virginia Berry Farm!
10:00 AM – Boxwood Care
Modern-day gardeners are rediscovering boxwood, the backbone of many landscapes. They are evergreen, drought tolerant, deer resistant, and have been part of the family tradition at Saunders Brothers, Inc. for over 60 years. Join Beth Anne from the Saunders Brothers team for an expert discussion on boxwood care.
11:00 AM – Mushrooms for Beginners
Interested in harvesting your own mushrooms but have no idea where to begin? Join Mark Jones, owner of Central VA-based Sharondale Farm, as he demystifies the world of mushrooms and shows you how to get growing in your own back yard!
12:00 PM – Miniature Gardening
Learn how to plan, create and care for a miniature garden with living plants and mini garden structures!
1:00 PM – Deer Resistant Plants
Is your yard becoming a gourmet snack spot for hungry deer? Craig Bradley from Monrovia will show you what plants you can choose to discourage deer from dining on your garden!
1:00 PM – Growing Back Yard Herbs
Growing herbs at home is fun, economical, and good for your health! Laura's Botanicals will explain the many healthy benefits for growing and using herbs in your everyday life.
2:00 PM – Backyard Beekeeping
Whether you are an experienced beekeeper, a new beekeeper, or thinking about starting a back yard beehive, the Richmond Beekeepers Association is here to answer your questions and show you how to succeed!
3:00 PM – Spring Container Gardening
Susan Frakes, Strange's very own container guru, will show you her secrets to creating containers bursting with colors! Using trees, shrubs, annuals and perennials she will teach you how to create containers for every space in your yard.
4:00 PM – Garden Rose Care 101
Roses are the queens of the garden. But like any royalty, they can be a bit touchy! Join the Richmond Rose Society as they teach you how to treat them properly so you can grow your very own award-winning roses at home!
5:00 PM – Veggies for Decks & Patios
Don't think you have enough space to grow a vegetable garden? Let us prove you wrong as we show you how to get creative with tomatoes, cucumbers, carrots, potatoes, squash and more when space is at a premium!
Sunday, March 18th
10:00 AM – Spring Lawn Care
Let Anthony Koch from Wyatt-Quarles Seed Co. show you how easy it is to be a turf expert. From weed control to fertilization, Anthony will give you all the tips you need to grown your very own lush, green lawn.
11:00 AM – Stepable Ground Covers
Join Sandy from Sandy's Plants as she shows you how to create that dream pathway, control weeds around borders, or go completely green with a lawn substitution with the awesome world of stepables!
12:00 PM – Controlling Moles & Voles
Are you tired of planting something only to see it disappear almost overnight? Have you ever stepped into your yard only to sink down in a soft spot? If you are tired of seeing tunnels in your lawn, Strange's Tom Rush has the organic solutions for you!
1:00 PM – Backyard Chickens
A growing trend for urban and suburban dwellers is raising chickens. Come and join us as we explain how easy it is to keep fresh eggs on the table with just a few chickens in the back yard. It's all about the basics!
2:00 PM – Organic Gardening
Join Bonnie from Espoma Organic as she explains how to go organic this year and grow a safer lawn and garden for your children and pets.
3:00 PM – Butterfly Gardening
Butterfly gardening is a wonderful way to enjoy your outdoor space. Local expert Rita Shultz (The Mail Ma'am) will share her secrets to best attract butterflies to your yard and garden!
Demonstrations
Free Orchid Repotting
Free pH Soil Testing
Composting
Beekeeping
Backyard Mushrooms – Create your own starter log! $5.00 per person.
Backyard Vegetables
Who Will Be There?
Monrovia (Saturday Only)
Espoma (Sunday Only)
Henrico Master Gardeners
Virginia Orchid Society 
Central Virginia Iris Society
Richmond Daylily Society
Richmond Rose Society (Saturday Only)
Richmond Beekeepers Association
Saunders Nursery (Saturday Only)
Sharondale Farm (Saturday Only)
Sandy's Plants (Sunday Only)
Wyatt-Quarles Seed Co. (Sunday Only)
Acme Stove & Fireplace Center w/ Big Green Egg (Saturday Only)
Tidal Creek (Saturday Only)
Wild Delight
Laura's Botanicals (Saturday Only)
Specials
Early Bird Discount
Arrive before 10:00 AM on Saturday the 17th or before 12:00 PM Sunday the 18th and enjoy 10% OFF the entire store!*
*does not apply to existing discounts, sale items, deliveries, or floral arrangements
Weekend-Wide Specials
25% OFF All Concrete Statuaries, Bird Baths, & Benches
25% OFF Complete Selection of Houseplants [Mechanicsville is also honoring this discount]
25% OFF Encore Azaleas
15% OFF Weeks Roses
20% OFF Complete Selection of Fruit Trees & Berries
25% OFF Complete Selection of Citrus
$18.95 Forsythia (5 gal.)
$9.95 Carolina Jasmine (1 gal.)
25¢ Everbearing Strawberries (Bare root)
$1.49 Early Spring Vegetables (4-pack)
$1.49 Pansies (4-pack)
$2.95 Perennials (3.5 inch)
99¢ Herbs (3.5 inch)
$2.69 Mulch (Your choice of pine bark or hardwood, large nuggets or mini nuggets)
20% OFF Espoma Plant-Tone (Your choice of size – 4 lb, 8 lb, 18 lb, 36 lb)
$16.99 Fertilome Spring Lawn Care (Your choice – New Lawn Starter, Classic Lawn Food, Crabgrass Preventer Plus Lawn Food)