Fall Fest
Date: October 7, 2017 Time: 9:00AM - 4:00PM Location: 12111 West Broad Street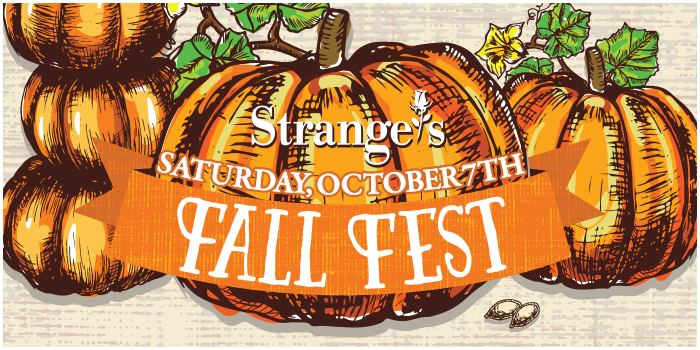 Celebrate the arrival of fall with the Strange's family! Join us on October 7th at our West Broad location for all day classes and workshops, special deals, and family-friendly festivities.
—-
We will be running one-day-only specials on the following products for the duration of Fall Fest:
20% Off Fall veggies
20% Off Herbs
25% Off Sun & shade perennials
25% Off Shade & fruit trees
25% Off #10 Emerald Green Arborvitae
20% Off Birdseed/suet
15% Off All Espoma Products
$9.95 Supersaver Bulb Packs
$9.95 Beautiful Blends Bulb Packs
$2.95 Field Trip Pie Pumpkins
—-
The event schedule is as follows:
All Day (10:00 AM – 3:00PM):
Pumpkin Painting
Scavenger Hunt
9:00 AM: Ask the Plant Doctor
10:00 AM: Fall Veggie Gardening
11:00 AM: Container Gardening for Fall
12:00 PM: Shrubs & Perennials for Fall
1:00 PM: Mole, Vole, and Critter Control
2:00 PM: Fairy Gardening
3:00 PM: Deer-Resistant Gardens
—–
Also come and browse our pop-up Fall Market from 10:00 AM – 3:00 PM for seasonal crafts and goodies. Vendors include:
Melissa's Simply Sweet
Hummingbird Gardens
Paper Rose Co.
Sweet Frog
The Wild Wander
Woodring Holler Creatives (Karen Lynn Woodring)
Pink House Farm
—–
Keep checking back here or on our Facebook event page for an up to date vendor list, event schedule, and special deals!