4th of July Festivities!
It's almost time to celebrate the land of the free and the home of the brave!
Independence Day is a special day for all Americans– a day to give thanks for the country we live in, to honor the men and women who made its success possible, and to relax and spend quality time with friends and family, enjoying the summer air!
Whether or not you'll be hosting a get-together, it's always fun to be among the many that decorate for the holiday. There's something so poignant about seeing homes splashed in red, white and blue flowers and wreaths, with the stars and stripes flying boldly overhead…
If you need some help adding a little all-American outdoor decoration, we've got some fun, easy, ways for you to join your fellow Americans in adding some patriotic pizzazz to your patio, balcony, front porch or landscape!
We've simplified outdoor decorating into 5 fast steps to make your holiday decorating fun and easy! Take a look at what we recommend:
Color is an important component in achieving the overall effect you're looking for. 
The goal is to add bold color accents in a way that defines your theme. 
In this case, your color scheme is red, white and blue.  Easy to add a container with red, white, and blue plants…This
  makes a big impact with little effort!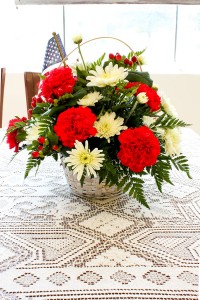 Good placement is the easiest way to get the most enjoyment out of your decorations!
Strategically placing your festive containers and decorations in areas where guests and passersby will linger ensures that they will be seen and admired!
Some key areas to decorate are, tabletops, seating areas, and entrances.
Grouping more than one container together can help add emphasis to your theme.
It's often better to group a few containers together in a key space than it is to spread them throughout the whole outdoor area as grouping can maximize impact. Try grouping in odd numbers- for instance 3 or 5 containers/objects per space- odd numbers are usually more visually appealing!
The key to pairing objects is keeping it simple!
Stick your color scheme and the overall effect will be cohesive and colorful!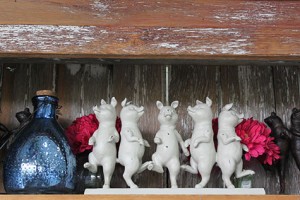 It's a great idea to decorate your outdoor space with durable, easy-to-move objects. You never know when an impromptu skit or activity will come along for entertainment and you'll want to be able to accommodate the fun!
Adding a few festive accessories throughout the space can quickly polish your decorating!
Use theme-appropriate accessories that can also be used for play and your enjoyment can be two-fold!
For example, pinwheels are great color additions to containers, and fun toys: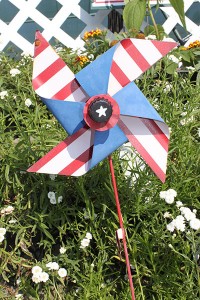 And there you have it!
We hope our quick guide to holiday decorating helps you to have fun dressing your outdoor space for Independence Day!
Happy Decorating!
photo sources: Strange's Garden Center